Do you get tired of kitchen spills on upholstered seats in your kitchen or dining room?  Do you freak out when kids, grandkids or messy adults sit at your table?  Well no reason to sweat it now.  We stumbled upon this great company called  Chair Apron at the  High Point Furniture Market.  It works like a slipcover but is made out of either stain-repellant linen or laminated fabric.
 These adorable covers come in awesome fabrics and are machine washable!  I love chevrons and geometrics!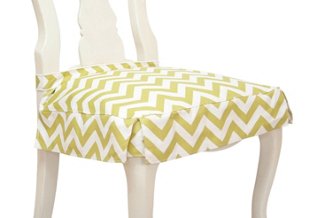 I think that the simple linen with the ruffle just may be my favorite:
These don't strictly need to be used for a dining area.  They would make a great cover for a vanity or desk chair.
I love that you  can wash them on the cold cycle of your washing machine.  Straighten fabrics before hanging dry and then iron while they are still somewhat damp.
I am definitely going to be ordering these for myself.  If you're concerned about them fitting your chairs, here's the scoop:  They are a standard size that fits chair seats up to 22″ w x 22″ d.  All sizes are designed to have a 4″edge around the sides and front of the chair.
Now is this clever or what?